About Conference

We would like to welcome you for 1st Annual Meeting of Neuro Rehab Group & 4th conference on "Development in Neuro-rehabilitation : Present and Future" in MARCH 2014.

The aims and objectives of the conference are:

1. To contribute to the professional development of neuro rehab by bringing together experts to share their knowledge and research findings.
2. To identify and describe current evidences- based practice in neuro rehabilitation management.
3. To highlight the role of multi-disciplinary team approach in the neuro rehab practice.
4. To provide a forum for presenting and sharing knowledge and ideas at an academic and clinical level.

This involves pre-conference hands on workshop followed by 2 day symposium.

Date & Venue
21st March: Pre Conference Workshop
Venue: AIIMS and DCWA Medical Centre
22ndv& 23rd March: Conference
Venue: Indraprastha Apollo Hospital, Delhi.
Scientific Committee
Dr. Madhu Mohanty, OT (IPH, Delhi)
Dr. Rajeev Mehta, PT (Apollo Hospital, Noida)
Dr. C.S. Ram, PT (ITS, Ghaziabad)
Dr. Shagun Aggarwal, PT (IAMR, New Delhi)
Dr. Joji M. John, PT (Yashoda Super Specialty Hospital, Ghaziabad)
Dr. Amit Sharma, PT (ITS, Ghaziabad)
Dr. Veena Slaich, OT (Retd, IPH, New Delhi)Dr. Mukul Verma (Indraprastha Apollo Hospital, New Delhi)
Dr. M.Ezaz Hussain (Jamia Millia Islamia University, New Delhi)
Dr. Dharam Pandey, PT (B.L. Kapoor Hospital, New Delhi)
Dr. Prabhat Ranjan, PT (AIIMS, New Delhi)
Dr. Murti, PT (Trauma Centre, AIIMS, New Delhi)
Dr. Pooja Anand, PT (MRU, Faridabad)
Dr. Harshita ,PT(Amity Inst, Noida)
Organizing committee
PATRON:Dr.Rajendra Prasad, Senior Neuro and Spine surgeon, Indraprastha Apollo Hospital, New Delhi
ORGANIZING CHAIRMAN: Cmde. RanbirTalwar , Executive Director, (IHIF)
ORGANIZING SECRETARY: Dr.TarunLala, PT Indraprastha Apollo Hospital, New Delhi
CO ORGANIZNG SECRETARY: Dr.Harpreet Singh, PTA.I.I.M.S,Delhi
Target Audience

We welcome delegates from across the country of the following profile. Physiotherapy Professionals, Physiotherapy Students, Occupational therapy professional, Psychologists, Rehabilitation and health care professionals.

For Further Information please contact Coordinator:

Dr Prateek Sharma, Physiotherapist, IHIF – 9818146089

Dr Mrinalini Singh, Occupational Therapist, IHIF- 9868867707

Email Id: at ihif.conference@gmail.com

Last date for registration : 25 February 2014

Abstract submissions and poster presentation by 25 February 2014 at ihif.conference@gmail.com

Programme Schedule

Delete the content starting from "Scientific committee till Target audience : For Further Information please contact Coordinator : Dr Prateek Sharma, PT, IHIF – 9818146089 Dr Mrinalini Singh, OT, IHIF- 9868867707 Email Id: at ihif.conference@gmail.com"
Pre-Conference Workshop
Topic
Instructor
Date/days
Venue
Fees
NDT treatment in adult hemiplegia.
Dr. Lognathan G
21st March 1day
AIIMS, New Delhi
500 INR
Gait assessment and training(PBWSS) in neurological conditions.
Dr. TarunLala
DCWA team
21st March
1day
DCWA medical centre,Zamrudpur, East of kailash
500 INR
Program Schedule
Conference Day 1, 22nd March, Saturday
TIME
SESSION 1 TOPIC
SPEAKER
8:30am- 9:00 am
REGISTRATION
9:00 am- 9:15 am
Introduction to Neuro-Rehab-current scenario
Dr .Rajendra Prasad
9:15 am- 9:45 am
Skill Presentation-Virtual reality training in Neuro-rehabilitation
Dr.Tarun Lala
9:45 am- 10:15 am
TEA
10:15 am- 10.30 am
Cognitive Rehabilitation
Dr.Deepali Kapoor
10:30 am- 10:45 am
Neural Orthosis
P & O
10:45 am – 11:00 am
Panel Discussion
SESSION 2
11:00am – 11:15 am
Care giver stress management-Therapist approach
Dr .Shobha Keswani
11.15am – 11.30 am
Role of hyperbaric therapy in TBI
Dr .Tarun Sahni
11:30am – 12:15 pm
Dilemma between motor Approaches(Traditional) Vs Neural Plasticity(Learning Approaches) in Neuro rehabilitation – Indian Clinical Scenario
Dr .Narkeesh Arumugam
12:15pm – 12:30 pm
PANEL DISCUSSION
12:30pm – 1:00 pm
Live demonstration of Botulinum Injection
Dr. P.N. Renjen
1:00pm – 2:00 pm
LUNCH
SESSION 3
2:00pm- 3:00 pm
Skill presentation-Motor imagery in stroke
Dr .Prem Kumar
3:00pm- 3:15 pm
Early mobility in "ICU"
Dr .Rajeev Agarwal
3:15 pm- 4:00 pm
Skill presentation-Assessment tools used in Neuro rehab
Dr .Ona Desai/Dr.Naeem/U-Zia/Dr.Nusrat Hamdani
4:00 pm- 5:00 pm
Skill presentation- PNF in Spinal cord Injury
Dr Harpreet Singh
TEA
Conference Day 2, 23rdSunday
TIME
TOPIC SESSION 1
SPEAKER
9:00 am- 9:45 am
Skill Presentation-ICF &NDT
Dr .Lognathan
9:45 am- 10:00 am
Abnormal GAITS
Dr. Vinit Suri
10:00 am- 10:45 am
Skill presentation- Vestibular rehabilitation
Dr .Sandeep Sharma
10:45 am- 11:00 am
PANEL DISCUSSION
11:00 am- 11:15 am
TEA
11:15am- 11:30 am
Traumatic Brain injury- Indian scenario
Dr Deepak Aggarwal
11:30 am- 11:45 am
Recent advances in stroke management
Dr .Taruna Mathur
11:45 am- 12:00 pm
Evidence based approach in Neuro Rehabilitation
Dr Kameshwar Prasad
12:00 pm- 12:15 pm
Role of Neuro surgeon in Neuro rehabilitation
Dr Rajender Prasad
12:15 pm- 12:45 pm
Neuro G Medicine- New approach to neuro rehabilitation
Dr.Gunvant Oswal
12:45 pm- 1:00 pm
PANEL DISCUSSION
1:00 pm-2:00 pm
LUNCH
SESSION 2
2:00 pm- 2:15 pm
Heads up campaign -IHIF
Cmde. Ranbir Talwar
2:15 pm- 2:30 pm
New Opportunities for Rehab therapists
Dr Sanjeev Gupta
2:30 pm- 2:45 pm
Robotics in spinal injury
Dr .Chitra Kataria
2:45 pm – 3:30 pm
Free paper presentation
3:30 pm – 4:00 pm
Poster competition
4:00 pm
VALEDICTORY/CERTIFICATE DISTRIBUTION
4.30 pm
TEA
Registration Details
| | |
| --- | --- |
| Early bird (before 25 February) | 1200 INR |
| From 25 February onwards | 1500 INR |
Payment can be made by Cash or DD / Cheque:
DD / Cheque in favor of "Neuro Rehab Workshop 2014" payable at New Delhi and posted to:
Indian Head Injury Foundation, 138, Sundarnagar, New Delhi
Cash payments to be made at: Room no. 1014, Indraprastha Apollo Hospitals, Sarita Vihar, New Delhi to Mrs. Chitra.
Registration will be for limited seats only
Scientific Committee
Dr. Madhu Mohanty, OT (IPH, Delhi)
Dr. Rajeev Mehta, PT (Apollo Hospital, Noida)
Dr. C.S. Ram, PT (ITS, Ghaziabad)
Dr. Shagun Aggarwal, PT (IAMR, New Delhi)
Dr. Joji M. John, PT (Yashoda Super Specialty Hospital, Ghaziabad)
Dr. Amit Sharma, PT (ITS, Ghaziabad)
Dr. Veena Slaich, OT (Retd, IPH, New Delhi)Dr. Mukul Verma (Indraprastha Apollo Hospital, New Delhi)
Dr. M.Ezaz Hussain (Jamia Millia Islamia University, New Delhi)
Dr. Dharam Pandey, PT (B.L. Kapoor Hospital, New Delhi)
Dr. Prabhat Ranjan, PT (AIIMS, New Delhi)
Dr. Murti, PT (Trauma Centre, AIIMS, New Delhi)
Dr. Pooja Anand, PT (MRU, Faridabad)
Dr Harshita ,PT(Amity Inst,Noida)
Organizing committee
PATRON:Dr.Rajendra Prasad, Senior Neuro and Spine surgeon, Indraprastha Apollo Hospital, New Delhi
ORGANIZING CHAIRMAN: Cmde. RanbirTalwar , Executive Director, (IHIF)
ORGANIZING SECRETARY: Dr.TarunLala, PT Indraprastha Apollo Hospital, New Delhi
CO ORGANIZNG SECRETARY: Dr.Harpreet Singh, PTA.I.I.M.S,Delhi
Target Audience
We welcome delegates from across the country of the following profile. Physiotherapy Professionals, Physiotherapy Students, Occupational therapy professional, Psychologists, Rehabilitation and health care professionals.
For Further Information please contact Coordinator
Dr Prateek Sharma, PT, IHIF – 9818146089 Dr Mrinalini Singh, OT, IHIF- 9868867707 Email Id: at ihif.conference@gmail.com
4TH NEURO REHAB CONFERENCE& 1ST ANNUAL MEETING OF IHIF NEURO REHAB GROUP (21-23 March 2014)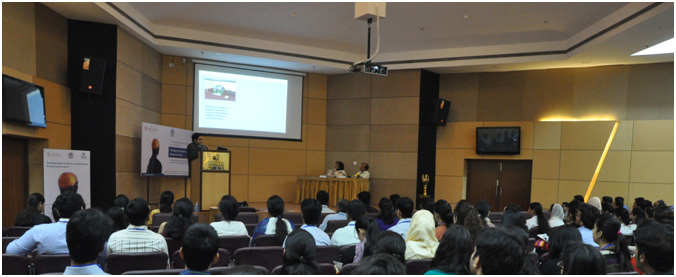 IHIF conducted the 4th Neuro Rehab Conference in collaboration with Indraprastha Apollo Hospitals, New Delhi and AIIMS, Department of Neurology, New Delhi. It was a hugely successful three day programme from 21 March to 23March 2014 and was attended by over 200 faculty and participants.
The first day was dedicated to hands on workshops on "GAIT Assessment & Training (PBWSS) in Neurological Conditions" & "NDT/ Bobath Principles for Assessment & Treatment of Adult Hemiplegia". These concurrent workshops were held at IHIF/DCWA Neuro Rehab Centre & AIIMS, New Delhi respectively, and were attended by over 100 physiotherapists and occupational therapists.
The main conference was held at Indraprastha Apollo Hospital on the 22 and 23 March 2014 and over 170 enthusiastic participants attended the same. Speakers from AIIMS, Jamia Hamdard University, Pune, Bangalore, Mumbai, Patiala and other parts of Delhi gave their valuable inputs.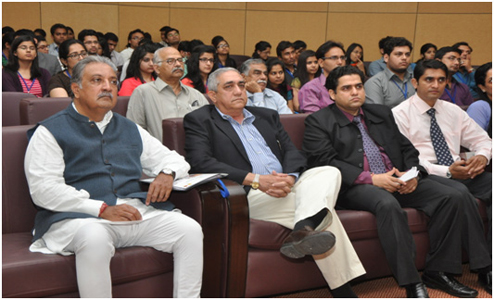 H.H. GajSinghji II of Marwar Jodhpur, Founder Trustee of IHIF graced the occasion with his presence and highlighted the need and importance of this kind of conference to build a comprehensive neuro rehab system in India. It is these budding Physiotherapists who will be the leaders and team leaders in this field in the future and no stone should be left unturned in providing them the tools to achieve this vision of IHIF.
The feedback received to date is extremely positive and it is intended to hold a much larger conference next year.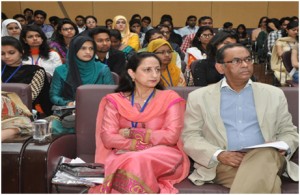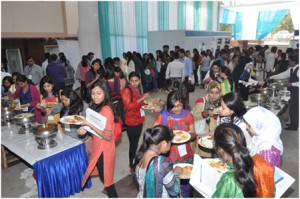 ---