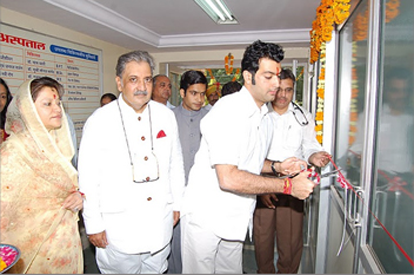 One of the most important IHIF initiatives in the fight against TBI is the establishment of the state-of-the-art Yuvraj Shivraj Singh Trauma Rehabilitation Centre at Rajidasa Hospital in Jodhpur. The centre was established on 13th January 2011 and was funded by the Sainsbury Family Charitable Trust.
 The mission is to provide intensive trauma care services to all severely injured patients, from evacuation by an ambulance through to the trauma centre emergency room. There are two major areas of focus at the rehabilitation centre – preventive care & curative medicine and post-accident rehabilitation. Curative programs include patient support groups, the hospital's integrated rehabilitation approach, and a community health assistance program. The final aspects are long term rehabilitation and home care training.
The reasons behind establishing this new care facility are staggering statistics. Trauma-related deaths occur every 1.9 minutes in India, according to a 2004 report in the Indian Journal of Critical Care Medicine. This means more than 100,000 lives are lost in India every year because of traumatic brain injuries (TBI). Furthermore, 95 percent of trauma victims in India do not receive optimal care during the "golden hour" period after an injury is sustained, in which health care administration is critical. The outcome of TBI is drastically correlated to the response of pre-hospital care and rehabilitation. Thirty percent of those who currently die from head injuries could be saved if quality care were available to them sooner. It is estimated that, with an increasing traffic burden in India, trauma is likely to become the third leading cause of death in the country by 2020.
 Addressing the first portion of the mission at the Yuvraj Shivraj Singh Trauma Rehabilitation Centre, Rajdadisa Hospital recently introduced two fully-equipped trauma ambulances at a combined cost of Rupees 12-14 lakh, or about £ 17000 each.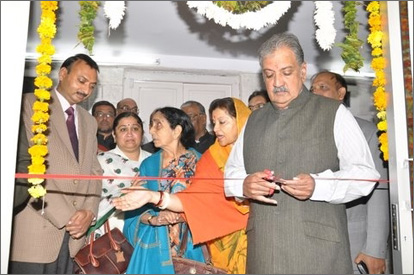 The trauma emergency center has been developed in and around the reception area on the ground floor of Rajdadisa Hospital, where red, yellow, and green zones will each have a different set of facilities. This is based on the strategy observed at the Jai Prakash Narayan Apex Trauma Centre at AIIMS, New Delhi. A CT scan machine and digital X-Ray have already been installed and there is a provision for life system in the close vicinity of the emergency arrival area. A laboratory and other similar facilities already exist in the area. A mobile X-Ray unit is also available, in addition to a 500mA X-Ray machine. Also of note are the ramps on both sides of the hospital entrance and the wide glass door for the easy passage of stretcher trolleys and wheelchairs.
Telemedicine facilities are already available at Rajdadisa Hospital. Telemedicine is the use of medical information exchanged from one site to another via electronic communications (such as email or the internet) for the health and education of the patient or healthcare provider and for the purpose of improving patient care. Dr Rajendra Prasad, Senior Neurosurgeon at Indraprastha Apollo Hospital in Dehli, is linking the Trauma Centre with his hospital. All resident doctors at Rajdadisa Hospital are trained for telemedicine so the facility can be utilized around the clock.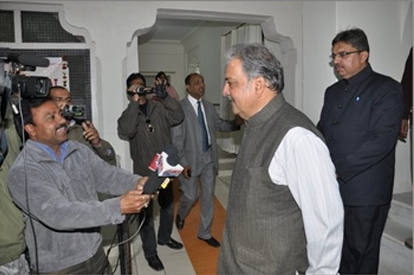 There are two major areas of concentration at Rajdadisa Hospital's Rehabilitation Centre (RHRC) – preventive steps and curative medicine. Preventative care includes trauma prevention task forces (in association with the Rajasthani government), lobbies for change and public awareness campaigns, and medical research and documentation. Curative programs include victims' support groups, the hospital's integrated rehabilitation approach, and a community health assistant program. RHRC works exclusively to improve the physical and psychological structure of trauma survivors for their restoration in society under the supervision of additional outpatient examinations. Besides physiotherapy and psychotherapy, it provides additional services such as counseling and legal aid.
 RHRC has announced that they will also start a unique program called Task Force against Trauma, formed at different district levels consisting of local doctors, lawyers, journalists, teachers, and social workers who will take the initiative for the protection against torture as well as human rights violations. The members of the TFT will facilitate treatment for the victims of torture locally, will arrange seminars, workshops and discussion meetings for general awareness about torture and human rights violations and will take necessary initiatives to stop any incidence of torture. They will also initiate The Door-to-Door Campaign against Torture, a village level anti-trauma and human rights empowerment campaign.
RHRC is concerned with the treatment of the trauma victims and provides services through a process termed as Integrated Rehabilitation Approach (IRA). It is a multidisciplinary approach, which includes physical, psychological as well as economic rehabilitation measures. RHRC operates a Jodhpur-based treatment center in Rajdadisa Hospital as a form of outpatient services provided to the victims.
 Finally, in an effort to assist the citizens of Jodhpur, RHRC will start the Zero Pain Movement, a revolutionary social movement to bring basic physiotherapeutic principles and prevention awareness to the masses. With the Zero Pain Movement, RHRC will – in conjunction with Medical College and local administration – use physiotherapy as a key tool to reduce the pain and suffering of the general public, especially those who are prone to head injuries.